Planning and Development Department Director Lisa Plowman said they encourage the public to file complaints and do the best they can to identify the location generating the odor.
"That way we can at least track that we're getting complaints," Plowman said.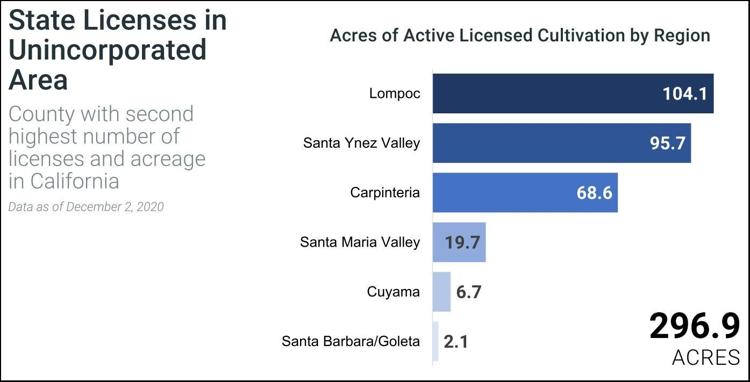 During the first quarter, her department responded to eight odor complaints in the North County.
Enforcement of county cannabis ordinances and the elimination of illegal operations have been concerns for supervisors, and it appears the Sheriff's Office focus on the black market is paying off in shutting down the large illegal grows resulting from fraudulent applications.
However, the report noted more needs to be done to address the smaller illegal operations.
"I do think that it's vital that oversight and enforcement continue to be a growing part of this business," 1st District Supervisor Das Williams said.
Evidence of the effectiveness of the existing enforcement program may be visible in the falling statistics.
In the first quarter of the previous fiscal year, 12 enforcement operations resulted in the seizure of 16,684 plants valued at $4.2 million and 1,157 pounds of dried products valued at $1.2 million.
This fiscal year, only five enforcement operations were conducted in the first quarter, leading to the seizure of just 7,220 plants valued at $3.6 million and 250 pounds of dried products valued at $250,000.
The Agricultural Commissioner's Office investigated one complaint involving pesticide use violations at a cultivation operation in Los Alamos, where workers and safety violations were also discovered.