Agrify Corporation Announces Pricing of Upsized $54 Million Initial Public Offering
Hardware and software developer Agrify Corporation (NasdaqCM:AGFY) announced pricing of its upsized IPO of 5,400,000 shares of common stock at a price of $10 per share. The shares began trading this week on the Nasdaq.
Maxim Group LLC and Roth Capital Partners are acting as joint book-running managers for the offering.
Agrify has granted the underwriters a 45-day option to purchase up to an additional 810,000 shares of common stock to cover over-allotments, if any. The offering is expected to close on February 1, 2021, subject to customary closing conditions.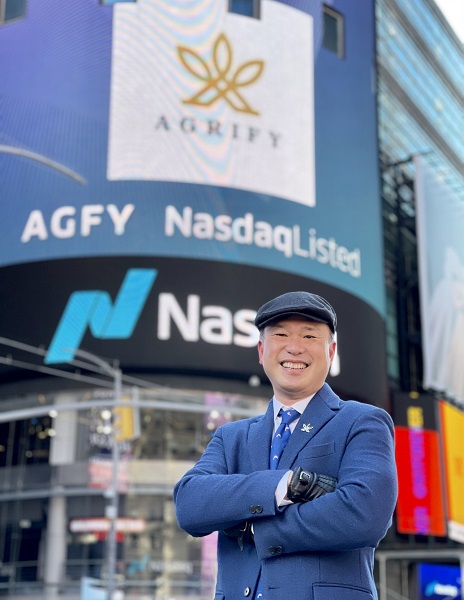 ---
Jushi Holdings Inc. Acquires Remaining Equity Interests in Agape Total Health Care Inc.
Vertically integrated MSO Jushi Holdings (CSE: JUSH) (OTCMKTS: JUSHF) completed the acquisition of the remaining 20 percent of the equity interests of Pennsylvania dispensary permittee Agape Total Health Care Inc.
"We are very excited to announce that we now own 100 percent of the equity in our retail and grower-processor subsidiaries in Pennsylvania," said Jushi Chief Executive Officer Jim Cacioppo. "The rapidly growing Pennsylvania cannabis market is a strategic focus area for Jushi, and the company's goal has always been to consolidate its ownership positions. Through our retail brand BEYOND / HELLO, we have developed a reliable, replicable model for high-quality retail experiences, backed by deep consumer insights. With our strong balance sheet, we're committed to expanding our footprint in each of the markets we serve and look forward to continuing to provide our patients and consumers a best-in-class customer experience."
---
Aurora Cannabis Inc. Closes Previously Announced Bought Deal Public Offering
Canadian cannabis company Aurora Cannabis (NYSE: ACB) (TSX: ACB) closed its previously announced bought deal public offering of units of the company for total gross proceeds of US$137,940,000. The company sold 13,200,000 units at US$10.45 per unit. Each unit is comprised of one common share of the company and one half of one common share purchase warrant of the company.
BMO Capital Markets and ATB Capital Markets acted as the bookrunners for the offering.
---
Pure Extracts Technologies Corp. Announces DTC Eligibility of Its Common Shares in the U.S.
Canadian extraction company Pure Extracts (CSE: PULL) (OTC: PRXTF) (XFRA: A2QJAJ) announced its common shares are now eligible for electronic clearing and settlement through The Depository Trust Company (DTC) in the United States. The company's common shares will continue to trade on the Canadian Securities Exchange and the Frankfurt Stock Exchange.
"DTC eligibility is a major step forward in increasing liquidity, broadening our shareholder base, and building a strong presence for our company within the US capital markets sphere," said Pure Extracts Chief Executive Officer Ben Nikolaevsky. "This is an important step in amplifying our story to a wider audience."
---
Australis Capital Inc. Provides Update About Australian Cannabis Grow Facility Contract
Australis Capital (CSE: AUSA) (OTC: AUSAF) announced that ALPS—a company in the process of being acquired by AUSA—signed an updated agreement with Cann Group Limited to confirm the delivery of end-to-end design, construction and (post) commissioning services for Cann's planned 363,000 sqft, high-tech greenhouse in Victoria, Australia.
---
Juva Life Inc. Advises on DTC Eligibility
California-based life sciences company Juva Life (CSE: JUVA) (OTCQB: JUVAF) (FRANKFURT: 4VV) announced electronic settlements of its OTCQB-traded shares in the United States have received approval from The Depository Trust Company (DTC) of New York and are now DTC eligible.
"We are incredibly pleased to have secured DTC eligibility to facilitate the trading of our common shares for U.S investors and brokerage firms," said Juva Life Chief Executive Officer Doug Chloupek. "This greatly simplifies the process of trading the company's common stock on the OTC marketplace in the United States allowing for faster execution and improved liquidity which will help broaden our investor base."
---
Ayr Strategies Inc. Moves to Definitive Merger Agreement with Blue Camo, LLC
Following its previously announced Letter of Intent, vertically integrated MSO Ayr Strategies (CSE: AYR.A, OTCQX: AYRWF) signed a definitive agreement to acquire 100-percent of the membership interests of Arizona-based Blue Camo, LLC.
"Arizona has been a terrific medical market, third in the U.S. in terms of patient penetration at over 3.8 percent and currently generating approximately $1 billion in annual revenue," said Ayr Chief Executive Officer Jonathan Sandelman. "Last week, the Arizona Department of Public Health began approving applications for adult-use sales. Thus far, approximately 90 locations have been approved, including the three Oasis-branded dispensaries that we will be acquiring. Oasis' adult-use sales commenced on Monday, January 25 to a large crowd of excited customers waiting to experience first-hand the end of cannabis prohibition in Arizona. We are thrilled to see the state move quickly to make safe, tested and regulated cannabis available for adult-use following the overwhelming support it received at the ballot box in November. We look forward to working with the regulators and team of more than110 people in Arizona to ensure a successful roll out of recreational sales in Arizona."
---
Gage Growth Corp. Announces Final Closing of Oversubscribed Regulation A+ Equity Financing
Michigan craft cannabis brand Gage announced the final closing of its Regulation A, Tier 2, equity financing. In total, Gage issued 28,571,400 Subordinate Voting Shares for gross proceeds of US$50,000,000, the maximum amount qualified under the company's offering circular. The company also is pursuing a potential go-public transaction which it expects to complete in Q1 2021.
"We are humbled and excited by the significant interest and investor demand we received for our oversubscribed Reg A financing," said Gage President Fabian Monaco. "Michigan is one of the fastest growing cannabis markets in the United States, and Gage is well positioned with a robust balance sheet to continue to grow our market share as the leading operator with the best brands in the state. This is a great first step in our journey to becoming a publicly-traded company, and we're excited to continue to drive long-term shareholder value."
---
Ionic Brands Corp. Announces Agreement with Convertible Debenture Holders
Pacific Northwest regional MSO Ionic Brands (CSE:IONC) (OTC PINK:IONKF) (FRA:1B3) entered into a non-binding proposal letter with certain holders of secured convertible debentures due May 16, 2022 for a proposed exchange of 90 percent or approximately CAD$16.2 million of the outstanding principal amount of secured debentures for preferred voting shares. The proposed exchange represents approximately 72 percent of Ionic's total debt.
---
Have financial news to share in Green Economy? Send your press release to [email protected].